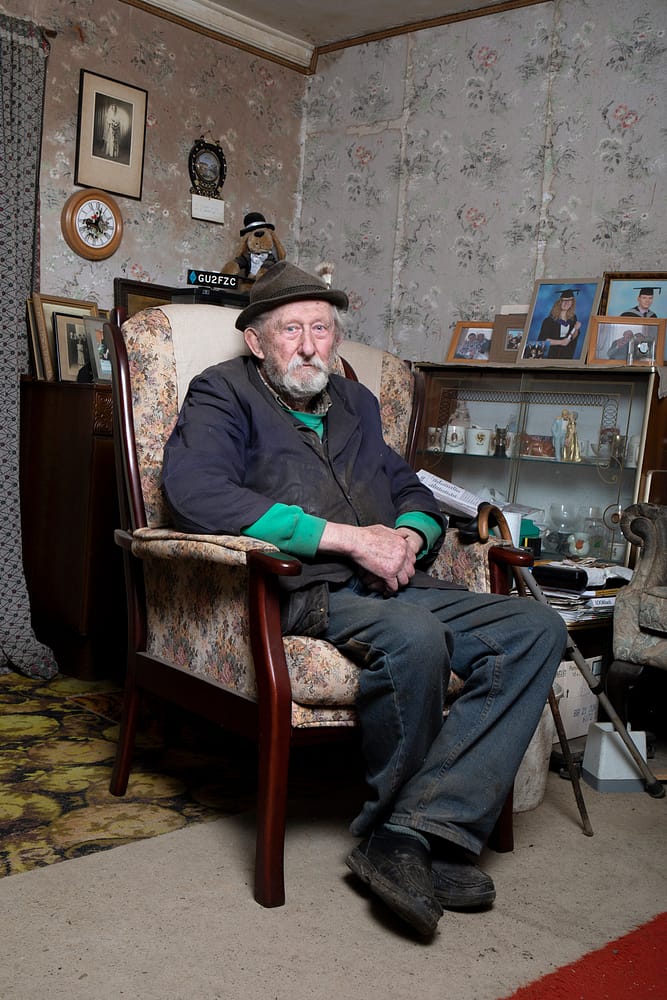 Mr Roy William Burton, A Participant Of The Voice-Vouaïe Project // © Aaron Yeandle
Photographer
Aaron Yeandle
The Story behind the Portrait
I have been working on a large-scale social-historical project called 'Voice-Vouaie' on the island of Guernsey. The work's aim is to bring awareness and create a social, historical, visual and audio record of the last Guernésiais speakers on the island, a language with a long and distinctive history that derives from the ancient Normans. The number of original native speakers in Guernsey is in fast decline and it is estimated there are fewer than 150 left. In World War II, Guernsey was occupied by the Germans for five years and most of Guernsey's children were evacuated to England just before the occupation happened. In part, this was one of the main reasons why the language began to die out.
'Voice-Vouaie' features intimate portraits taken in people's home showing their private and home environments. I felt it was essential to capture this critical changing situation as an important part of Guernsey's social heritage and for the future legacy of the Island. I photographed 105 people altogether and most of them were in their 80's. Importantly, these unique individuals are the children who were not evacuated in WWII and spent their childhood under the German occupation. One person in particular I met during this project was Roy William Burton, the man in this portrait.
At the Guernsey Museum, there is a database of all the last Guernésiais speakers. Over a two-year period, I worked my way through this list and met all types of fascinating people with many stories to tell. However, William was not on the database and just by chance, somebody I knew had met him recently. They told me about William and arranged for me to meet him to see if he would like to take part and have his portrait taken.
It was the middle of winter when I arrived at an old, dilapidated farmhouse with a wooden makeshift door where William and his wife warmly welcomed me in. The interior was in a fairly ramshackle state with peeling wallpaper, but the fireplace was burning brightly, emitting a wonderful smell and instantly took me back to my childhood. The first thing they both said to me was, 'take us as we are, because this is who we are''.
Over a cup of tea, I began to explain the project and stayed for around three hours listening to their fascinating life stories in great detail. William revealed he had broken his back in a farming accident only a few years previously. He talked of the love he had for his horses and how he looks after them attentively every day. He also recounted some of his childhood experiences under the Nazi occupation and what it was like to be a child at this time. For example, they used to make homemade Christal radios and in general, he said they would get up to 'all kinds of mischief'. He made friends with a very young German soldier who told William that whatever he was doing was 'verboten' (forbidden) but the soldier never reported him. Afterwards, they became lifelong friends and often visited each other over the years.
When I had my exhibition, it was delightful to see that the first two people entering were William and his wife. It meant a lot that they had come – normally they would not even travel into town from their farm, let alone to a crowded opening event at a museum. It was a very emotional moment and an honour to have been welcomed into their home, spending time with William, his wife and their stories.
The first thing said to me was, 'take us as we are, because this is who we are''.
Bio
Aaron Yeandle predominantly works on long-term historical and social projects. His photographic practice explores the mundane and the everyday, observing and reflecting on communities and places that are often glimpsed but not pondered upon. Aaron has exhibited both nationally and internationally as well as completing four Artist-in-Residencies. He has worked on numerous large-scale projects. In particular, the unseen world of Guernsey's communities, delving into social and historical aspects of Guernsey and the heritage of the island. Aaron is interested in how realism, romanticism and the imagination can be juxtaposed.
During the lockdown, Aaron created a conceptual body of work about COVID- 19. Parts of this project have been exhibited with the New Zealand photography festival in conjunction with FORMAT as well as in Italy with Creative in Quarantine, the Brighton Photo Fringe, The Southwest Collective, Mass Isolation Finland and featured in the US, Australia and Europe.
The Voice-Vouaie exhibition was three years in the making and included 200 photographs, a film and an audio listening station of recorded interviews of the Guernésiais speakers. Aaron is a member of the MAP6 Collective
Website and Social