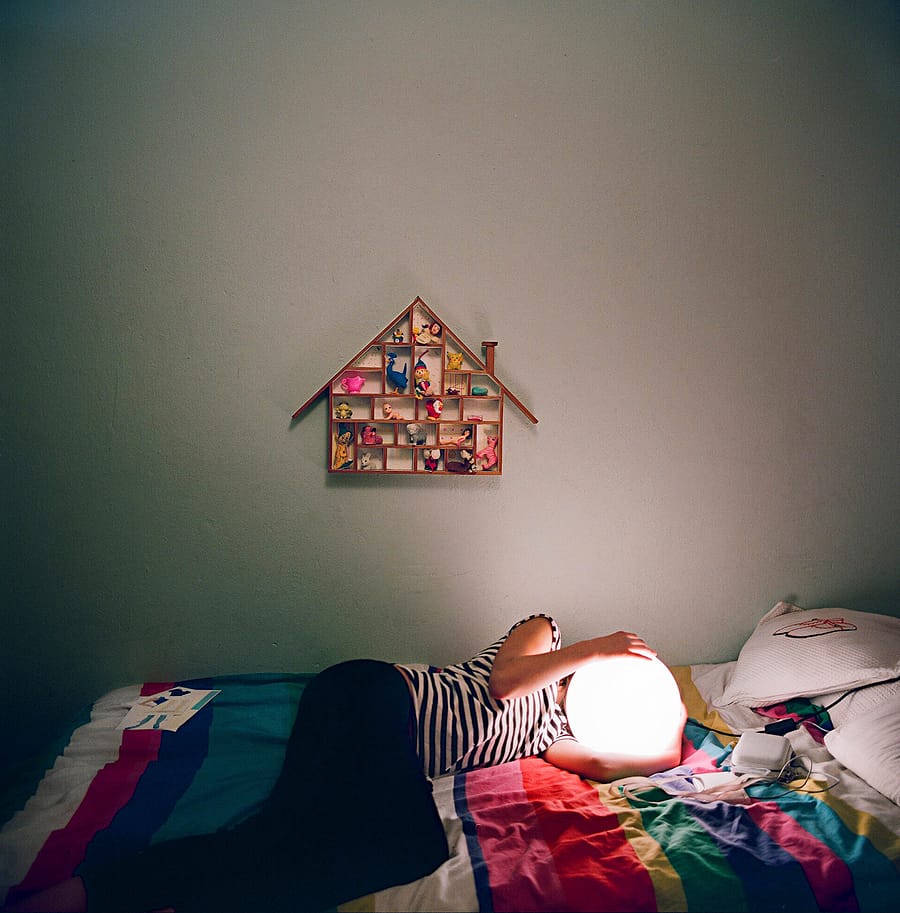 Presents as Normal // © Paola de Grenet
Photographer
Paola de Grenet with text by Jane E Darroch Riley
The Story behind the Portrait
This is one of the first photos that Paola took of my daughter M for her series 'Growing Up'. In it, M's face is obscured by a lamp she is holding, a large disc of light that almost covers her head. To say that Paola has a gift for visual metaphor is an understatement and then some.
It was the first glimpse I had of what would become the project 'Presents As Normal' a series of portraits that evolved between them for over a decade. Paola has known M for a long time, M has known Paola's kids since they were born, she is completely, naturally herself around Paola and something in this image sparked an even deeper understanding between them.
Maybe it's the obvious metaphor of the light shining from within yet obscuring her face. The covering of her face in this image feels significant, M is beautiful, but it's a burden when it becomes the focus of what people notice about her, a mask to her difficulties. Her face might be the thing you notice first and will remember after, but if you spend time with her, there will always be that inevitable pause, the moment when it comes clear that all is not as it seems. She avoids eye contact and is unlikely to answer any questions with a relevant answer. Sometimes, she repeats the same sentence all day. She doesn't understand the concept of time or dates or numbers. But she does understand that she is pretty.
What goes on inside M's head is a mystery. Not only to us, her parents but to the many medical professionals who have examined her over the years. She may not be able to verbalise it, but emotionally for sure, she is a full participant in this project. For me, Paola's image shows her natural affinity for innocence and for the importance of creating safer, kinder ways to live, to soften the cruel edges while thoroughly exposing them at the same time, she wraps the vulnerable in a protective layer but one that is gossamer thin and cast at a precarious angle. Her world is one where 'pink dreams'* can still exist. M has that same affinity for beauty, a rose-hued delight in all that surrounds her, I see a clear line running from photographer to subject, there is a place that they both dwell but I do not.
There was a great deal of conflict for me about the privacy issues in letting images of M go out in the world. Wise and clever people asked me to consider the purpose of the project and the motivations of the photographer. They, it should be said, had never met Paola and wondered, I suppose, if she saw M as solely a captivating image in the same vein as beautiful sunset and in turn, perhaps felt I was offering up M's inner life for public view knowing that it could be interpreted in strange ways by strangers. "This is a child with a right to privacy, it's not about art or creativity" read one piece of advice. So what were we doing, Paola and me and M? We were celebrating M, exploring a particular period when she was progressing through a vulnerable and difficult age. Exploring the pressures brought to bear upon young girls made all the more difficult for one who cannot process conceptual ideas. Exploring all the wonder and beauty that she brings to our lives.
The well-meaning person who cautioned me against the idea that I would allow a photo project to be made seemed to view creating art from M's life as terrible negative but here's the thing, M has an artist father, she has grown up surrounded by creative people. In her family life, art and creativity are hugely important, neither I nor her father have a problem with the idea that one of the defining aspects our family life (having a special needs child) would be channelled into or dealt with through images. Creating is something M does endlessly. For me, there is a vital connection between writing and parenting, the need to find the words is a daily struggle but the search for them and processing of them is essential to me. Equally, M's father is a great Dad, but he is also an artist who needs time alone to work and the two are inseparable facts. M's brother writes and draws and so it is no surprise that we would have no issue about participating in Paola's art as a way of understanding more about M.
I don't know then if the very thing I was warned against turns out to be part of the motivation. Does art have to teach? I don't think so, does this photo have to illuminate the entire world of children like M, of course not. Will it perhaps in unexpected ways let us glimpse at more of her inaccessible inner life? I hope so. Will it let people pause for a moment and wonder who is that child, why are we hiding her face yet letting her be seen by the world? The truth is that there is no way of knowing how people will interpret it. I do know that M teaches us on a daily basis how to live in the moment, to see the world as an enchanted rather than ugly place, she shines her own unique light in the world. Those are the things I see in Paola's photo of M.
*Pink Dreams is the name of an unrelated series of Paola's images.
For me, Paola's image shows her natural affinity for innocence and for the importance of creating safer, kinder ways to live, to soften the cruel edges while thoroughly exposing them at the same time, she wraps the vulnerable in a protective layer but one that is gossamer thin and cast at a precarious angle.
Bio
Paola de Grenet
"I remember wanting to become a newspaper seller, a hairdresser, an archaeologist and then a psychologist and a graphic designer and an illustrator…I finally became a photographer that is a little bit an illustrator, a little bit a psychologist and a little bit archaeologist…and of course, most hairdressers want to know about their clients lives, so yes, the photographer I have become is also a little bit hairdresser…"
After studying Graphic Design in London (Camberwell College of Arts) Paola started working as a photographer in 1999. Since 2003 she has lived and worked in Barcelona. She focuses mainly on portrait and reportage and her pictures have been published in various publications like The Guardian, The Observer, Fuera de Serie (El Mundo), El Pais, NYTimes, MarieClaire.
Other satisfying moments have been an Honorable Mention in Julia Margaret Cameron Award (2020), an Honorable mention in BIFA foto award (2019), the acquisition of a portrait to Banco Sabadell art collection (2019), twice third prize at Life Framer competition (2015 and 2017), a finalist in Descubrimientos Photo España, the grant FotoPres07 (subsequently exhibited in the Caixa Forum/Barcelona) and the Marco Pesaresi prize 2009 (Italy).
Jane E Darroch Riley
Jane has always made a living from words and pictures, print and paper. She loves a good story, and beauty in print, on paper and on-screen. She has been incredibly fortunate to work with some hugely talented and lovely people along the way, and hopes to keep doing so. Jane is from Glasgow but has also called London, New York and Hong Kong home at different times in her life, these days you can find her in Barcelona.
Website and Social
Paola de Grenet's Website
Jane E Darroch Riley on LinkedIn and Dots